Janay Brice is the Ex-Girlfriend and Baby Mama of Derwin Davis.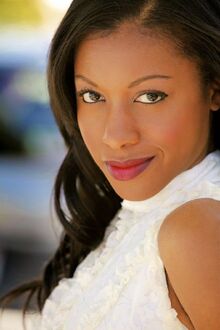 Biography.
Edit
Janay is the ex-girlfriend of football player Derwin Davis.
Derwin and Melanie broke up in season 2 and a few episode later Derwin started dating Janay. Since Derwin and Melanie were so on and off, Melanie got back together with Derwin and soon found out that Janay was pregnant with baby boy DJ.
Season 3 Janay was in her last trimester with baby DJ and gave birth on the day of Melanie and Derwin's wedding, during their vows.
Season 4 Melanie takes a cotton swab to DJ's mouth to run a DNA test on DJ to see if Derwin is the father. The DNA test results come out negative but are "accidentally" wrong. This causes Janay to want to take Derwin to court to get full custody of DJ, which Derwin is able to talk her out of.
Season 5 Janay starts to become "close friends" with Melanie. Then moves away to New York with her fiance, Noah with DJ.
Relationships
Edit
Hill Harper
Dwyane Wade
Derwin Davis (Ex-Boyfriend) (baby daddy)
Noah