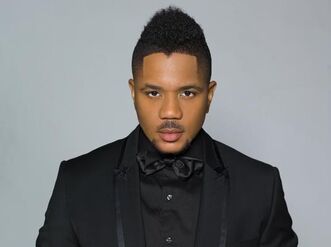 Malik El DeBarge Wright is one of the main characters in The Game. He is the only son of Tasha Mack and Chauncey Wright. He is also the brother of Kai Mack and Pucci Wright. Once a superstar quarterback, he's now the third-string quarterback for the San Diego Sabers.
Malik Wright is portrayed by Hosea Chanchez.
Biography
Edit
Malik is the former superstar quarterback of the San Diego Sabers. Malik is considered a playboy and he is quite cocky about it. Malik fell in love with actress Robin Givens and convinces her to marry him. Malik lived live with Tasha until he eventually got his own place.
Malik fired Tasha in season 2 and in the third season, he meets his father and half-sister, Pucci.
In season 4, Malik is still cocky and the spoiled playboy he is, and he was dating the wife of the new owner of the Sabers. Malik got arrested for having a DUI and assaulting a police officer. He then goes to rehab to overcome his drinking problem. In rehab, he falls for a troubled supermodel, Jenna.
In season five, Malik overcomes some finicial issues and is forced to sell his mansion and cars. Malik also ends his relationship with Jenna. Malik seems to be getting his life together, but has coveted back to his old ways.
At the end of season 6, Malik and Tee Tee open their own restaurant "Phatty's". Malik is then assaulted by a group of men. He finds out that he won't have full use of his arm which means he won't be able to play football.
In season 7, Malik gets a personal trainer named Yana, who tries to helps him get back on the football field.
In season 8, Malik forges Yana's signature to arrange football tryouts in which he realizes he isn't ready to get back on the field yet and this causes Yana to leave him. Tasha then tries with the help of Jason to get Malik back in the Sabers.
In season 9, Malik and Blue get into an altercation over Kiera Whitaker. Malik and Kiera eventually date. Malik intentionally decided to hold a press conference to retire with Kiera by his side but when she delines, he holds a press conference to tell the world he's back and later leads the Sabers to another championship.
 Relationships

Renee Royce (Ex-girlfriend)
Eva Marcille (Ex-girlfriend)
Serena Williams (Ex-Girlfriend)
Parker Keith (Ex-sexual partner)
Jenna Rice (Ex-girlfriend)
Yana (Ex-girlfriend)
Robin Givens (Ex-wife)
Keira Whitaker (Attraction)
Malik is one of the two male main characters to appear in every season of The Game. Jason is the second.