The Pitts is a major family on The Game.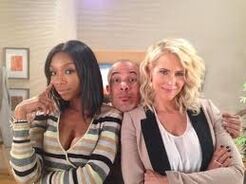 Biography
Edit
Jason and Kelly:
Jason and Kelly are have a long history. As they were previously married, but later divorce due to irreconcilable differences.
After three long years, Kelly returns in season 7. Upon her return, she reconnects with Jason, Brittany and Tasha, but Chardonnay is not so keen on this (at first). She and Jason share a kiss, which then brings back old feelings for Jason. Kelly and Chardonnay eventually bond.
In season 9, Kelly and Jason remarry.
Jason and Chardonnay:
In season 5, Jason is in a romantic relationship with his girlfriend/wife, Chardonnay Pitts.
In the season 7 finale, Jason reveals that he is still love with Kelly and that he can't marry Chardonnay.
In season 8, Chardonnay leaves Jason for good, but then tells him that she's taking everything he has and the second time she goes to talk to him, he tells Chardonnay that he doesn't love her.